Our team is committed to the health, comfort and well-being of our volunteer participants. Our team has between 9 and 33 years of experience. Combined, they represent more than 250 years of clinical research expertise.
Our Team
Our clinical research team of 13 professionals include:
Primary Investigators
Sub-Investigators
Clinical Research Manager
Regulatory Coordinator
Clinical Research Coordinators
Subject Recruiter
Office Coordinator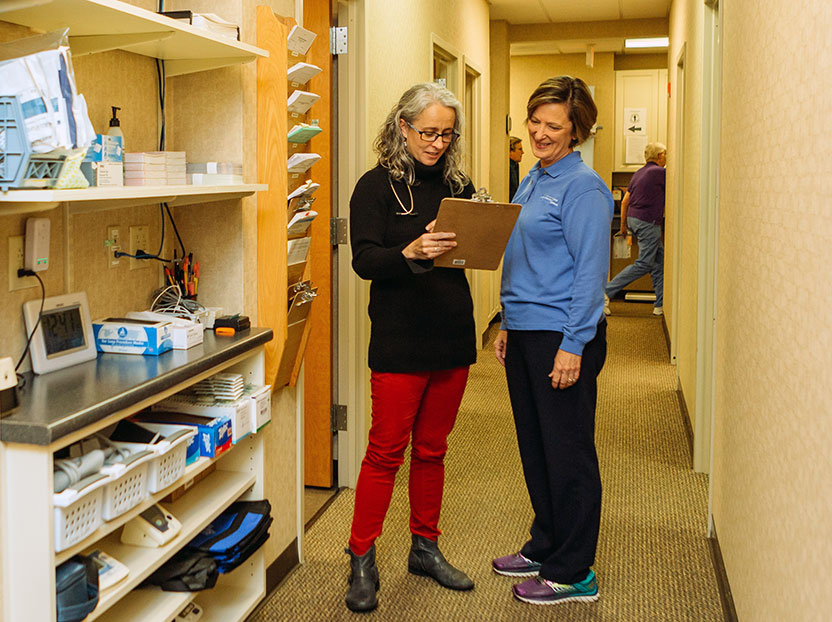 Dr. Craig LaForce
Medical Director and Principal Investigator
Dr. Craig LaForce is the medical director of North Carolina Clinical Research. Since 1986, he has served as the principal investigator for over 550 studies and the sub-investigator for all other trials at NCCR. Dr. LaForce frequently consults with pharma on protocol design, authors papers and reviews study reports. Dr. LaForce is board certified in allergy/immunology and pediatrics. He is also a Certified Physician Investigator (CPI) and is a "hands-on" investigator.
Dr. Karen Dunn
Assistant Medical Director and Principal Investigator
Dr. Karen Dunn is the assistant medical director at NCCR since 1988. She has served as a sub-investigator or principal investigator for over 650 studies. Dr. Dunn is a Certified Physician Investigator (CPI) and has helped pharmaceutical companies as a consultant and protocol review. As an investigator, Dr. Dunn is involved with all aspects of our clinical studies and particularly enjoys spending time with the patients. She is board certified in allergy/immunology and pediatrics.
Patti Becherer
Clinical Research Manager
Patti Becherer has been the clinical research manager at NCCR since 1989 and has been involved in clinical research since 1986. She has a bachelor's degree in nursing and is a Certified Clinical Research Coordinator (CCRC). As site manager, she is responsible for the supervision and coordination of clinical research operations. This includes (but not limited to): new staff training; in-house quality assurance, new business development, and study contract/budget negotiations. Upon request, she reviews protocols and consults with sponsors on design and "real life" feasibility. Patti loves seeing patients and assisting her amazing team of coordinators with study visits when needed.
Jan Pochis
Regulatory Coordinator/ Administrative Manager
Jan comfortably wears both hats on the NCCR team, handling the regulatory filing/reporting in connection with all the clinical studies conducted as well as making sure that the office runs efficiently and smoothly.
She completes, files and tracks regulatory documents, from study start-up to study closure and beyond (that includes accountability for all study files, new and old). Jan communicates with the IRB (Institutional Review Boards) and Study Sponsors/ CROs (Clinical Research Organizations) to ensure compliance with the many rules and guidelines set forth for conducting clinical studies. As regulatory coordinator, she also assists with contract and feasibility reviews and reconciles accounts payable/receivable as each of the studies progresses.
In her role as Administrative Manager, Jan is able to help our team stay on top of all the training needed to keep us sharp and on top of our game! GCP training, IATA training, annual refresher reviews of the NCCR SOPs, BLS (Basic Life Support) training-these are just some of the items she schedules to keep everyone within the proscribed timelines. Jan updates CVs and medical licensures annually, and handles payroll functions, accounts payable and accounts receivable for NCCR. In her 23 years of switching hats, she says that she loves the variety and has never been bored or lacked a challenge!
As part of our team approach, no matter what the job title, Jan is ready to assist other members of the staff either routinely or in emergency situations.
Teresa Johnson
Patient Recruiter
Teresa Johnson is the patient recruiter at NCCR. As the recruiter, Teresa's primary focus includes recruiting new patients to participate in clinical trials. She is responsible for making initial contact with potential research patients to evaluate their health and candidacy for a study. In this role, she also oversees advertisement campaigns to help acquire new patient interest as well as matches previous patients with studies that meet both study and patient needs. Teresa has been with NCCR since 1997. Prior to her current position, she was study coordinator. She has been a certified clinical research coordinator since 2007, and she continues to assist study coordinators with procedures and serves as an unblinded drug dispenser.
Jalissa Southerland
Front Office Coordinator (Receptionist)
Jalissa acts as our "Patient Concierge" and "Director of First Impressions."
She is the voice and face that greets you when you call our office and check in for your visits to our facility. She is in charge of making sure your time at NCCR is a pleasant experience. Whether you are here for a short or long visit, Jalissa ensures you have everything you need to be as comfortable as possible.
In addition to handling site amenities like  patient meals, entertainment, lounge, and private sleeping areas, Jalissa also manages all the front office duties that help our office run smoothly.
At NCCR, our priority is maintaining the highest standards in accordance with IRB and FDA regulations. Our front office staff is accountable for maintaining consistency in regards to temperature, calibration and monitor/visitor logs. Having a reliable and proficient individual as our site's "Gate Keeper" is a role that holds significance not only to us but also to our patient volunteers and sponsors.
Clinical Research Coordinators (CRC) are the key to the success of a clinical research study.  Our CRCs are all trained professionals with a variety of medical and research backgrounds, including RNs, Medical Assistants, EMT, CCRCs, etc.  Together our 6 coordinators have an average of 17 years of experience in Clinical Research. Their qualifications include but are not limited to:
Annual GCP Training
CPR Certified
OSHA Compliant
IATA Certified
Experienced with several EDC, IWRS and E-Diary systems
Trained in ECG procedures, Phlebotomy, Spirometry, FeNO Testing, Allergy Skin Testing, etc.
Our coordinators' primary role is to execute a comprehensive approach to planning and running a clinical trial. This plan includes, but is not limited to:
Being completely familiar with the protocol
Anticipating all needed materials and storage requirements for the study
Preparing required forms (source documents, logs, phone screeners, etc.)
Conducting scheduled visit procedures and monitoring patient progress throughout the study
Communicating and working closely with the investigators, manager, regulatory, and recruiter
Responsible for dispensing investigational product (IP), IP accountability, and IWRS management
Completing CRFs and EDC
Maintaining communication with study monitors from sponsor and or CRO
North Carolina Clinical Research's coordinating team members include:
Marlys Akin, RN has worked with our investigators for 28 years and has been a CRC since 2007.
Lisa Williamson, RCMA, CCRC has worked in the medical field for 30 years and has been a NCCR-CRC since 2008.
Daunita Adesuyi, CCRC joined the NCCR team in 2009 and has been a CRC since 2013.
Jan Beam, BSN has worked in clinical research since 1987 and joined NCCR in 2011 as a CRC.
Elizabeth Gyori, CCRC started coordinating clinical studies in 2010 and joined us in 2013.
Would you like to know more about our team's extensive qualifications? If you are interested in taking part in a study, or if you're a sponsor, contact us and we'll be glad to answer all your questions.